Just like social media, email marketing is a fundamental tool in almost any digital marketing campaign. Email marketing doesn't cost much to get started and you will find a lot of choices for configuring a solution for your company's needs.  You will achieve impressive engagement numbers when you use an email marketing service properly. So, email for marketing can take several forms, so some packages will attempt to address all of them while others will seek to specialize. Also, each of those tactics will require different tools when it comes to the creation of the source email, dissemination to specific recipients, and integration with other back-end systems. Below is the best email marketing software.
Constant Contact
Constant Contact is used for small businesses. Their email automation software comes with a 60- day free trial and can offer users multiple customizations and integrations options while keeping it simple and user-friendly. Constant Contact has grown to become one of the largest email marketing services in the world.
SendInBlue
SendInBlue is a very powerful email marketing solution for those on a low budget since it comes with a free plan. SendInBlue is another young email marketing platform where they are originally built to send transaction-based emails. However, now they have combined the power of both email and SMS campaigns into one unique platform. So, this includes features like list management, campaign reporting, and email layout optimization.
GetResponse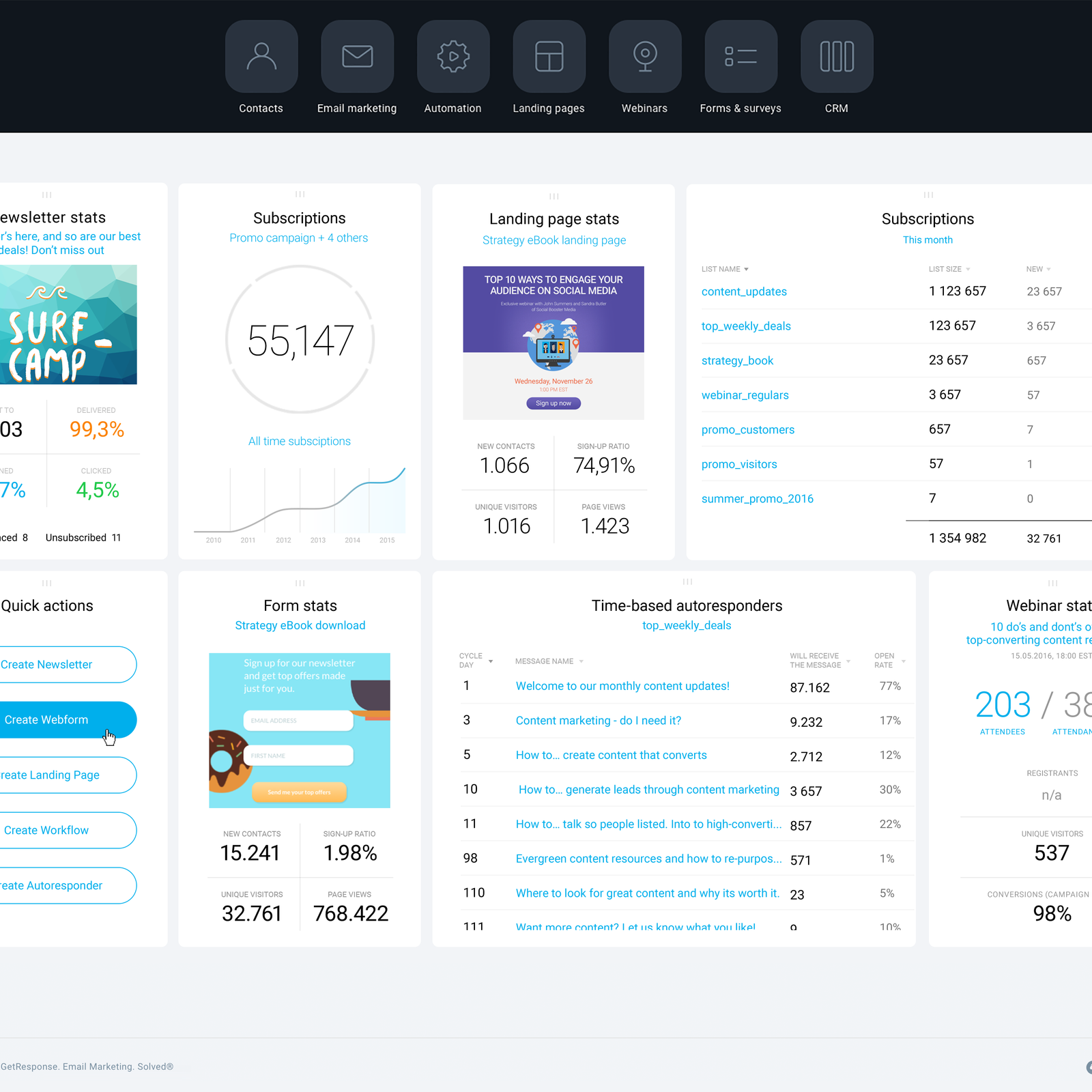 GetResponse will more than an online marketing platform for email marketing when it comes to additions like landing page creator and webinar solution. It can be equipped with some unique features like the ability for creating landing pages and webinars. So, for creating your emails you will be using an intuitive drag and drop builder.
HubSpot
HubSpot is the email marketing and CRM tool provider that comes with feature-packed free of charge bundle, along with some premium paid plans. You will get a drag and drop email builder for customizing the layouts, add CTAs, Imahes and tweak your content. So you will be able to use personalized content to bring you closer to your audience. You will find advanced email marketing features such as email automation tools, list segmentation, ready to use templates, email tracking, and extensive analytics. Also, the lower-tier plans will include forum-based support function and have tons of resources where you can browse for finding answers which you need. HubSpot is the best email marketing software.
ConvertKit
ConvertKit has a target section of the market affectionately called creators. Over here, you can get to know how easy it is to create email automation workflows. It can relies upon a visual builder and see how your email sequences will play out. There is also a built-in landing page editor and can start email marketing where you don't even need a website.
The above-mentioned tools are the ideal ones that can be used for business. Hope that I have covered all the topics in my article about the best email marketing software. Thanks for reading!